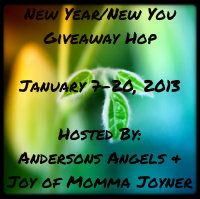 Welcome to the New Year/New You Event hosted by
Andersons Angels
and
Joy of Momma Joyner
. This Event features a little bit of everything to help you keep those New Goals you set! Each blog has gathered up a unique Prize Package of $25 or more so be sure to visit each blog from the linky below and enter for your chance to win some really amazing prizes! This event will end on January 20th at 11:59pm EST.
New year, New you! Welcome 2013 with some amazing hand made jewelry from
Vianca Mercedes Collection
!!!!
Vianca Mercedes has been creating beautiful pieces of jewelry since 2011. While in the hospital for a few health conditions, she began her love for making jewelry to keep herself busy. Jewelry kept her from becoming depressed and found a new meaning to life. She told me she never thought she would be putting the words "Jewelry Artist" on a resume. Vianca is a very genuine, hard working, artistic, and talented person... all traits that shine through her work. I asked her if their was anything she wanted to let the world know and she replied with this quote. "Never stop laughing or smiling. Life is too short to let it go to waste. Enjoy every second as if is your last."
I got the opportunity to review this beautiful 14K gold filled "U TURN" necklace. Simple yet trendy, this necklace can be worn with just about anything. Dress it up or down, it will finish off your outfit! The necklace is hand forged and hammered. It comes with a 16 inch chain that is the perfect length for this necklace. The shop is also very reasonably priced for such beautiful and artistic hand-made jewelry.
If you would like to look at more of what Vianca Mercedes Collection has to offer check out her etsy store here!!
http://www.etsy.com/shop/viancamercedes?ref=seller_info
a Rafflecopter giveaway